Know more about AMACO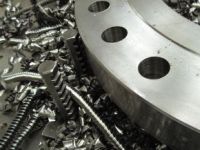 Only the most competitive and experienced suppliers can meet the supply and technical demands of world's most dynamic and innovative service providers in the industrial, petrochemical, Oil & Gas, power generation and construction arena, and that too on a trusted and most satisfying long-term basis. We are proud to say that Atiq Al Mohairibi Trading Co LLC is the most trusted partner for almost all major International Industrial, Engineering and Construction business operating in Middle East for the last 12 years.
Operating out of Abu Dhabi Atiq Al Mohairibi Trading Co LLC is the first preference in the Industrial and Engineering field and conduct operations all over the Middle East and across the GCC countries. Endowed with the most vibrant work force and operating with the best industrial standards and practices AMACO is the preferred regional distributor for all professional service providers.
AMACO partners with world class manufactures from around the globe to bring the finest and the most revered Industrial products to the Middle East business scene. All the major industrial, petrochemical, Oil & Gas (onshore/offshore), power generation and construction establishments and service providers entrust AMACO in getting their demands for high quality industrial equipments like flow control products, pipeline products, packing materials, electrical products, instrumentation products, analytical & lab equipments, safety items, a wide range of quality hand tools and power tools for their various projects. We supply these demands with technology and products from leading production houses from USA, Europe and Japan, which ensures industrial quality and standards in operation.
AMACO is a registered vendor with all the major Oil companies in UAE and are also pre-qualified for supply of Products and Services with major EPC Contractors. Our in-depth experience in the core market segments supported by us helps in catering our customers with solutions and services in a timely fashion.
AMACO supplies equipment and services to a range of sectors, including the following:
Onshore & Offshore Petroleum Companies

Refineries, Gas Plants & Downstream Petroleum Companies

Power Generation, Electricity Distribution & Utility Companies

Petrochemical Companies

EPC Contractors & Engineering Companies

Construction Companies

Drilling Contractors & Oilfield Service Companies

Government Departments & Municipalities