AMACO Hardware and Bulding Materials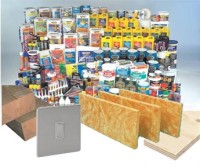 AMACO has been successfully serving the needs of the UAE (United Arab Emirates) market with a versatile experience from 1998 in Hardware and building material industry with a vast stock of over 10000 different building materials.
Quality Service and Quality products have always been the key factor behind all our success. AMACO has positioned itself, as a full service supplier and consultants to the construction industry where contractors know that the expertise needed to complete a construction job is always available from AMACO.
AMACO is always eager to provide the construction industry in the country with the best building materials available, roaming the world over to import these materials from the best-known manufacturers and stocking its stores to serve our customers best.
Delivery
The strategic location of present facilities ensures timely service to all construction projects. Materials are delivered to construction sites by AMACO fleet of heavy and light vehicles for local and long distance deliveries. It is common knowledge in the industry, that delivery of AMACO products is efficient, timely and round-the-clock.